game news Guild Wars 2: For its tenth anniversary, the MMO is offered a new extension
Guild Wars 2 has ruled the MMO world along with World of Warcraft for years. It's been exactly ten good years, by the way. To celebrate this great event, the ArenaNet title today presents a big surprise.
Always more players for a game that turns 10
Guild Wars 2 is not dead, better, the title is healthy, confirms ArenaNet, the studio behind the successful MMO. In fact, as the study attests, the game that was born in 2012 has practically doubled its number of fans in the last three years.
We are seeing incredible community growth. In fact, the number of active Guild Wars 2 players has more than doubled in the last three years. This growth allowed Guild Wars 2: End of Dragons to outsell our previous expansion, Guild Wars 2: Path of Fire. Not bad for a game that will soon celebrate its 10th anniversary. ArenaNet
To celebrate this great success of Guild Wars 2, the developer reveals on its own site that a new extension will be released.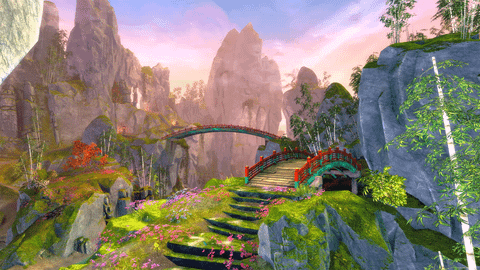 A fourth extension, but when?
Not too long ago, players were able to witness the denouement of the dragon cycle, which could have heralded the end of the Guild Wars 2 adventure, but the MMO doesn't intend to stop on such a good path… The studio even decides to start the development of a new extension.
We're excited to confirm that there will be a fourth expansion for Guild Wars 2! When we say we are focused on the long term, we mean it. This confirmation is coming very soon (more than ever), so don't expect to hear more about it for quite some time. It takes a while to develop an extension! ArenaNet
As you can see, this fourth expansion of the game is still very mysterious and far from ready. To tell the truth, the latter still has no name. In other words, you have to be patient.
But to help players look forward, ArenaNet has announced the "Spring 2022 schedule," and what we're reminded is that the MMO will be more accessible than ever before. In fact, the Living World Story event is making a comeback to help new players understand the lore of this massive universe.
Spring 2022 Program
March 15: "End of Dragons" tweak update
March 29: Super Adventure Festival, "End of Dragons" rework update
April 19: Living World Season 1 Episode 1, Aetherblade Hideout Challenge Mode
May 10: Download Xunlai Jade in Challenge mode
April 24: Living World Season 1, Episode 2, Kaineng Lookout Challenge Mode, New Legendary Weapon Variant
June 7: Dragon Bash Festival, Harvest Temple Challenge Mode
June 28: Balance Update, New Legendary Weapon Variant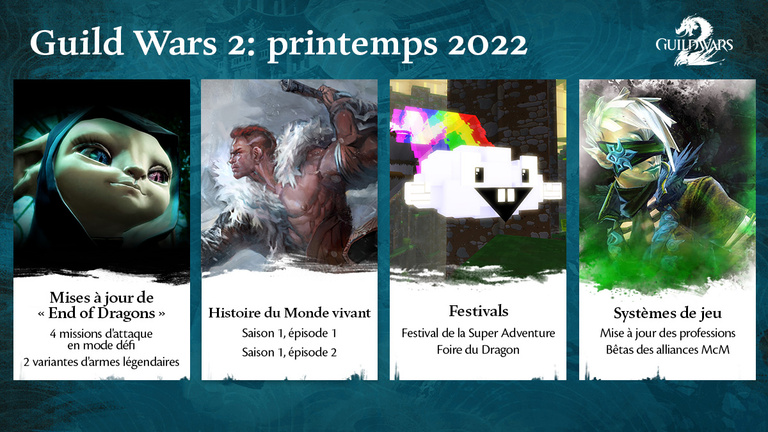 Finally, we also learned that Guild Wars 2 will be making its first steps on Steam later this year and that DirectX11 support is on the agenda.
---
Also read:

By JeromeJoffardEditorial jeuxvideo.com
parliamentaryTwitter