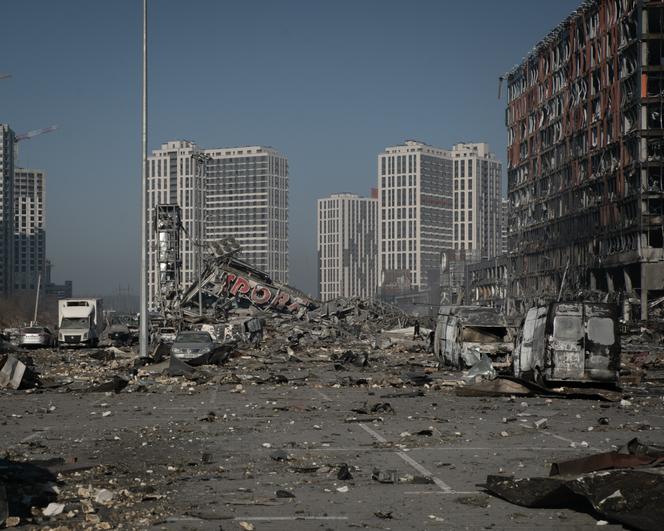 The salvos of artillery fire are so intense, at times, that they are indistinguishable from each other. The noise is like a continuous rumble, and it becomes difficult to discern the explosions. A deluge of fire rains down on the frontline fighters. Clouds of black smoke obscure the horizon. The fronts to the northwest of kyiv have exploded again in recent days, and the Ukrainian capital was, for the first time, on Wednesday, March 23, attacked by Russian artillery; the bombardments so far are due to air strikes and missile strikes.
At the last checkpoint before the Irpin front line, closed to the press since the deaths of three journalists in the sector, Ukrainian soldiers smoke cigarettes in silence. Paramedics and civilian volunteers, meanwhile, cautiously left the highly exposed crossing at the edge of the woods, taking shelter between two buildings. Ukrainian artillery, located slightly to the rear, took part in the fighting: shells and rockets whistled over their heads and flew towards the Russian positions.
The ukrainian army claims to be carrying out counter-offensive operations at the gates of kyiv. Two pieces of information seem to converge in this direction. First, on the eastern front, the Russian forces that had reached the approaches to Brovary were pushed back. Second, on the western front, the city of Makariv, near the road to Zhytomyr, was recaptured. As for the cities of Irpin, Boutcha and Hostomel, in the northwest vicinity of kyiv, the situation remains unclear. Reports from various unofficial Ukrainian sources that Russian forces would be surrounded are by no means confirmed, with no indication that they have been cut off from their rear in the north.
Seventy-three dead and 297 wounded
In kyiv, the approach of the Russian army is felt even more than before. Because, apart from the fact that missiles now regularly fall on the northern and western districts of the city, Russian artillery hit the Nyvky district (about 10 kilometers from the front) on Wednesday. Buildings were riddled with shrapnel and shop windows shattered. Traces of mortar shells were visible on the asphalt of the surrounding streets. This artillery salvo wounded four people, according to the mayor of kyiv. Shevchenko district was also hit by rocket fire on Wednesday. The official balance of affected civilians in the Ukrainian capital is now 73 dead and 297 wounded.
You have 48.3% of this article left to read. The following is for subscribers only.