game news Rachet and Clank Rift Apart – Protagonist of the game named after a very popular American icon
Expected as the first revolution of the PS5, Ratchet & Clank: Rift Apart takes advantage of the console's SSD to bring up other dimensions very quickly. Different dimensions in which the alter egos of the main characters Ratchet and Clank are located. This is the case of Rivet, whose name went through many tests before being chosen.
Summary
Ratchet and Clank part ways at Rift Apart.

Rivet tightens the screw
Ratchet and Clank part ways at Rift Apart.
Ratchet & Clank have been an iconic PlayStation duo for many years. One is a lombax, a kind of humanoid feline, handymen of all kinds, while the other is a mini-robot endowed with a real personality. Since 2002, they have been repelling the Machiavellian plans of Dr. Nefarious who wants to conquer the entire galaxy. His last attempt dates from June 11, 2021, with the exclusive launch on PlayStation 5 of Ratchet & Clank: Rift Apart.
In this last work, Nefarious seizes a weapon that allows him to travel between different temporalities and decides to settle in one in which he always wins. A plan not exempt from consequences since it will damage the temporal fabric and therefore the other timelines. But that's not counting the brave Ratchet and Clank…as well as his temporary alter-egos: Rivet and KT-7461.
Rivet tightens the screw
And the process of choosing a name for Rivet brings up some very interesting elements for anyone interested in the different stages of a game's development. commissioned designer of Insomniac Games Mark Stuart explaining at a conference of the Game Developers Conference why several names were rejected. The first code name chosen was Ratchet, but was quickly brushed aside as being reductive and not defining this character's existence as a female version of Ratchet. In this name selection process, Rachet is also mentioned:
After all, she and Ratchet are dimensional quirks of each other. Ratchet is a gender neutral name.
But for plot comprehension issues, he was also kicked out: Clank switching between dimensions and dealing with the two Ratchets, it was hard to figure out which character he was. In this sense, he is head writer Sam Maggs on Twitter who provides more details and returns to the criteria imposed to name the future Rivet :
When I tried to think of a name for Ratchet's alternate universe counterpart, I started with these basics:

– Ideally, it should also be named after a tool or mechanism.
– It should also be two syllables to evoke similarity when speaking
– Ideally, it should end with a harsh sound

-Sam Maggs (Sam Maggs) March 29, 2022
Ideally, it should also be named after a tool or mechanism.
Must have two syllables to be similar to speak
Ideally it should end with a harsh sound.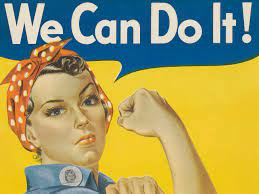 The first discussions retain the name of Gadget, ideal according to the criteria. Except that problem: this name is already used by iconic cartoon characters from the 80s and 90s like rescue ranger or Inspector Gadget. Three names are then selected: Socket, Hammer and… Rivet. Introduced to the entire team, it is of course Rivet who wins the votes hands down. A victory explained by the similarities with Rivet the riveter, an icon of American pop culture (image on the right).
As a reminder, Ratchet & Clank: Rift Apart was released on June 11, 2021 exclusively on PS5 and is one of the first "big slapswhich can be found on the console. The JV editorial team gave it a score of 18/20.

By charlanmhgEditorial jeuxvideo.com
parliamentaryTwitter