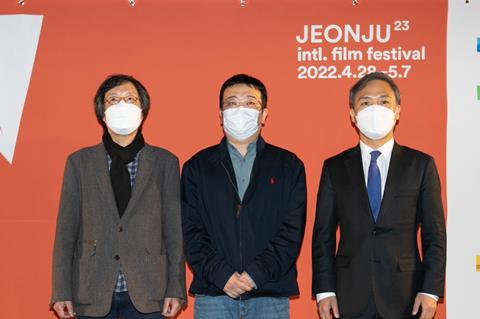 South Korea's Jeonju International Film Festival (April 28-May 7) has submitted a shortlist of 217 films from 56 countries for its first full physical edition since the start of the Covid-19 pandemic.
A special program curated by Train to Busan Director Yeon Sang-ho is among those selected for the 23rd edition of the festival, which was announced at back-to-back press conferences in Jeonju and Seoul today (March 31).
The 10-day event will include an award ceremony on May 4, while the Jeonju Project industry program will be held from May 1 to 3.
This year's selection includes 61 world premieres, while four international premieres include Anders' Norwegian drama Emblem. a human positionZhan Kai-di's Taiwanese family film Raydio and the Japanese documentary by Hyuga Fumiari Tokyo Kurdsall in International Competition.
"The [pandemic] The situation has changed a lot this year, but we have accumulated knowledge and a manual, and we have practiced for different situations," said Jeonju Festival Director Lee Joon-dong.
"There has never been a case of infection spreading from theaters where people are all sitting facing the same direction, and we will ban food consumption in theaters. We are looking at using around 75,000 seats throughout this year."
Jeonju To Open With Sci-Fi Drama Kogonada after yangwhich received its world premiere at the Cannes Film Festival last July and also screened as part of the virtual Sundance in January.
It will close with the human drama of Eric Gravel Full timewhich won the awards for best director and best actress at the Orizzonti strand in Venice last September.
In its ninth edition, the Jeonju Cinema Project (JCP), the festival's program that selects projects to finance, produce and distribute, will see screenings of four completed films. Two will be world premieres in Jeonju, as usual for JCP films: Park Hyuckjee's Korean shaman film Girl who dreams of time and the Argentina-Korea co-production by Alan Martín Segal negative way.
The other two had their world premieres in Berlin earlier this year and will have their Asian premieres in Jeonju: Eric Baudelaire a flower in the mouth and Dane Komljen after-water.
Yeon's selection
As this year's special guest programmer, filmmaker Yeon said he was asked to select two of his own films and three others to show. He chose his first animated film the king of pigs (2011), his first live-action film and pan-Asian hit Train to Busan (2016), David Lynch blue velvet (1986), directed by Kiyoshi Kurosawa Cure (1997) and Shinzo Katayama Missing (2021).
"I chose movies that I've tended to search for a lot these days and haven't seen in theaters," he said of selecting works by other directors. "I thought it would be a great opportunity for myself to see them on the big screen."
The organizers expect more than 60 foreign guests and more than 2,000 domestic guests this year. These will include all but one of the International Competition directors, all JCP and Korean Competition directors, as well as all members of the jury, which includes critic and academic Nicole Brenez, Venice Days programmer Andrei Tanasescu and directors Chang (The objective) and Clarisa Navas (one in a thousand).
Yeon will also be on hand to participate in a movie talk with a surprise guest from the show she curated.
The retrospectives include an exhibition of Lee Chang-dong's films digitally restored in 4K, complemented by a documentary about the Cannes regular and a recent short film he directed; a tribute to Shin Su-won and other Korean female directors; and the previously announced Taehung Pictures retrospective, commemorating the legendary production house's recently deceased director, Lee Tae-won.
In 2020, Jeonju was one of the first international festivals to go ahead in the early days of the pandemic. with screenings behind closed doors and onlineand last year it expanded its hybrid system of online and offline screenings.