game news PS5: A PlayStation Studio in a horror game under Unreal Engine 5, does Resident Evil have to worry?
At the moment, Sony and PlayStation are on all fronts: exclusive releases, the recent acquisition of a new development studio, the reveal of the new PlayStation Plus formula and, of course, the beginning of the construction of the games that will mark the heyday of his consoles. That's good because, just today, we discovered information about one of the next AAA of the Japanese company!
Summary
Firesprite in a project… spooky!

Sony bets on the trio: AAA, terror and narration
Firesprite in a project… spooky!
With the recent acquisition of the Haven studio Founded by Jade Raymond, who notably officiated on projects like Stadia, Star Wars, and even Assassin's Creed, the PlayStation Studios family is growing. Plus, each of them is hard at work bringing Sony's next hits to life, with some studios more than others according to a recent discovery! In fact, something is happening on the Firesprite studio side, acquired by Sony almost seven months ago.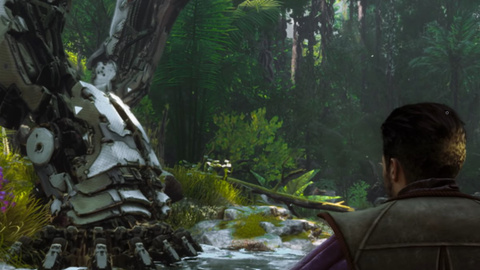 The Liverpool-based studio is already being tapped by the Japanese manufacturer – the latter works on both a virtual reality game in the universe of the Horizon franchise from Guerrilla Games, baptized Horizon: Call of the Mountainas well as at the top the next installment in the Twisted Metal serieswithdrawn from the hands of Lucid Games after the disappointment of Destruction All Stars. As if two projects weren't enough, a job ad suggests there's a third title in the studio's pipeline!
Sony bets on the trio: AAA, terror and narration
The job offer in question was broadcast during the day on the ResetEra site and already makes it possible to define the contours of this third title in development at Firesprite. As detailed in the announcement, the studio is currently looking for a Narrative Director for its " Narrative AAA horror adventure game under Unreal Engine 5 ». This index on Sony's projects is also timely as it confirms the manufacturer's intention in his desire to produce games that emphasize the story.

If we scrutinize in more detail the description of the announcement, we learn that the narrative director will be in charge of all the narration of the project, while " help establish and consider the universe and lore of the game during key stages of development, right up to the game's release. However, the title remains a mystery and, at the moment, it is difficult to say if it is a new intellectual property or the return of an already known franchise.. Be that as it may, Sony is determined to hunt in lands of the hit of Capcom and other representatives of the genre: demonic resident, Face, layers of fears, Amnesia and many others will have competition!

By JinxebEditorial jeuxvideo.com
parliamentary