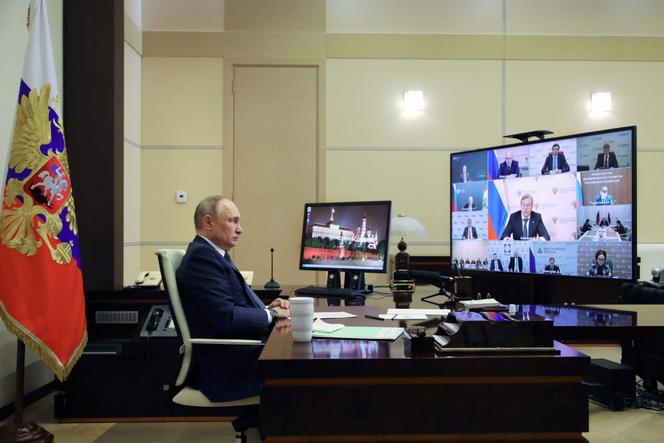 Misleading claims, manipulated photos, conspiracy theories… Since the beginning of the war in Ukraine, a myriad of misinformation circulating on social media.
If these come from the Russian camp as well as from the Ukrainian camp, Moscow has distinguished itself since the beginning of the conflict by a much more structured, systematic, almost industrial resort even to the manipulation of public opinion: as a survey of Worldan army of anonymous handymen is spreading rumors on social networks, including in France, to cast doubt on the reality of the situation, and find relief in conspiratorial and even political circles.
This strategy comes as no surprise to Belgian history professor and essayist Marie Peltier, who analyzes the effects of Russian disinformation on Western societies since the civil war in Syria. According to the author ofObsession: behind the scenes of the conspiracy narrative (Inculte, 2018), the Russian strategy of poisoning public debate has taken insidious forms since the pandemic, but it has always been there.
Is the level of Russian misinformation on social media about the war in Ukraine surprising?
Not at all, no. I am not even convinced that there is more now than during Covid-19: the level of Russian disinformation in our societies has been very high for five years. Since there are military and strategic interests at the moment, this is even more active, but the ratio seems similar to me. Many times we imagine that there is more misinformation than before, but it is above all that we are more aware of it.
Basically, the narrative is very similar to what was already happening in Syria: the Kremlin relays function to constantly distill doubts about what is really happening on the ground, using conspiratorial postulates: "the media is lying to you", "politicians manipulate you", etc. These conspiring elements were already there in 2016 when Aleppo fell. Also, we focus on the Kremlin, but this type of disinformation is a common point in most dictatorial regimes. Since 2003 and the war in Iraq, they have been undermining Western democracies with this kind of talk.
What is different is that in Syria Russia was working a civilizing rhetoric by presenting itself as the last bastion against Islamization, which cannot work for Ukraine. This history of civilization has therefore become a history of struggle against neo-Nazism. But the logic is the same.
How was the link formed between anti-vaccine rhetoric and rhetoric that excuses Russia's invasion of Ukraine?
Anti-vaccine rhetoric, at least about covid-19, is largely the offspring of Putinian semantics, in the sense that it uses a lot of anti-system rhetoric to sell itself. That's the link. Putin's speech was presented as a criticism of democratic excesses. It is not the anti-vaccine movement that leads to Putinism, quite the opposite. However, it must be remembered that in Russia, Vladimir Putin himself was not against vaccinations. This anti-system discourse coming from a dictatorship was already there, upstream [de la pandémie].
But I will qualify by pointing out that people have become politicized in light of Covid-19. They still did not have a discourse or a political commitment built, they fine-tuned it thanks to the lockdowns and Internet traffic, and now they can put the experience they have gained of an anti-establishment posture in defense of Vladimir Putin. In this, Covid-19 served as an experimental laboratory for this positioning, brought politics to intimacy, and for some anti-system thinking. It is now anchored. They may not have had the same level of activism before.
Can the banning of Russian state media shows like RT and Sputnik reverse this way of thinking?
Banning these sites is a very good thing., it was necessary to cast opprobrium on this type of speech. But we react too late, this discourse is already well established. And RT stars like Alexis Poulin have already been recruited elsewhere to broadcast their speech. Because it is important not to believe that RT had a monopoly on Kremlin propaganda. There has been a trivialization of this discourse much further, and for several years now, even in the traditional media, with the multiplication, since the civil war in Syria, of the opposition between pro-Assad and anti-Assad, as if they were two Democrats. options The worm is already deep in the fruit.
What forms do these pro-Russian disinformation discourses take today?
They are similar to what some call soft propaganda: "I'm not for Putin, but…" We are not saying that we are in favor of Russia, but we are condemning a "double standard" in the West, and a media and humanitarian attention towards Ukraine that would be disproportionate compared to other conflicts, such as Yemen.
This is the critique of selective obsession. Nobody says they are pro-Assad, nobody says they are pro-Putin, but they criticize you for not talking about all the victims, as if our struggles were not coherent enough. This is not so much disinformation as it is what I would call desensitization, rhetoric that is intended to make us look away from Vladimir Putin's war crimes and, in doing so, rid him of them. It is the weapon of discredit and the great victory of the Kremlin.