Olympique Lyonnais meets West Ham this Thursday (9:00 p.m.) in the second leg of the Europa League quarterfinals. After the draw in the first leg (1-1), Raymond Domenech is very pessimistic about Lyonnais and its end of the season.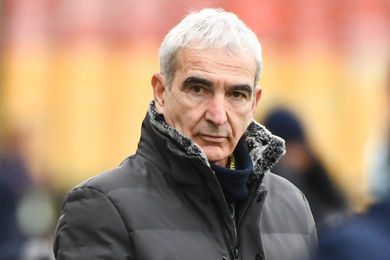 Domenech is pessimistic about the end of Lyon's season
This Thursday (9:00 p.m.), Olympique Lyonnais is playing for its European future. In the immediate future, there is a place in the Europa League semi-finals to win. But the Rhône club also looks further.
Because, 10th in Ligue 1 with seven days to go, Lyon almost said goodbye to qualifying for the European Cup thanks to the championship. And a crown in C3 would allow him to participate in a European competition next season.
Domenech doesn't see Lyon win at home
For Raymond Domenech, the Europa League is Lyon's last hope of being European next season. But the former coach of the France team does not believe it very well after the draw against West Ham in the first leg (1-1). He is the last option and I am more than pessimistic about his ability to qualify against West Ham, although he has been pretty solid so far. Given what happened in the first leg, I'm not sure they can win at home, where they are the worst. estimated the technician for Ouest-France.
Despite a numerical superiority throughout the second half, the Gones had failed to beat the Londoners in the first leg. Will Peter Bosz's players be more effective in a Groupama Stadium that has won their cause? Domenech cares above all about defense. I'm concerned about his permanent defensive fragility and lack of athletic impact. For a European Cup match, OL currently seems fragile to me judge. Before adding: Lyon must finally have effective offenses and above all recover serenity and solidity in defense .
R. Domenech – in a moment we are surpassed by their level
Former player (1970-1977) and coach (1988-1993) of Lyon, Domenech is usually behind the Gones. But this time, the former Nantes manager is quite desperate: We have the right to dream but for a moment our level and what we produce exceeds us. At the moment, I find that they do not produce much. (…) This season, it's a little bad. They have a fragile defense, static midfielders with the ball and clumsy attackers who don't weigh on the opposing defenses.
The Lyonnais will try to make Domenech lie tonight to give themselves new European emotions and give hope to a possible end of the season in a cannon shot. I am Lyonnais, I would like to believe it but I watch the games and I am lucid. I don't see why this team, which has been on the same base since September, would suddenly become very collective, solid and generous. , launched the 70-year-old man, fatalistic. Let's hope, for OL, that the fans expected at Groupama Stadium show more enthusiasm to support his protégés, who will have to do without goalkeeper Anthony Lopes or attacking midfielder Lucas Paquetá.
+ View probable match compositions.
Do you think Lyon will qualify tonight? Do not hesitate to react and comment in the area. add a comment …