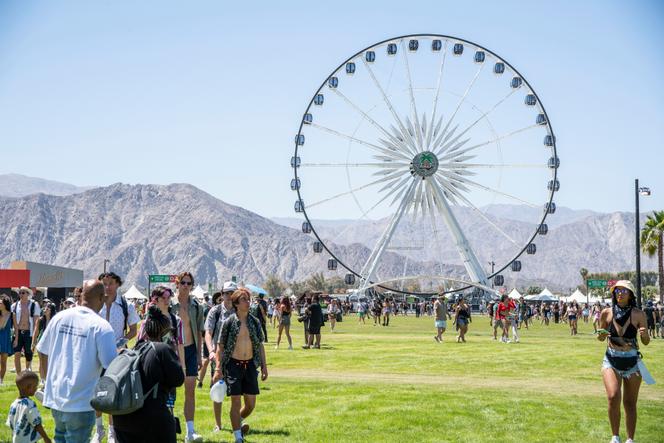 More than masks, it's flower crowns and sequined makeup that will adorn, as usual, the festival goers who flocked to Coachella this year. The great Californian festival opened like this on Friday, April 15 for the first time since 2019.
"I'm vaccinated and we're outdoors, I'm not worried at all, I really needed this"launches Katie, 22, from New York and for whom this is the second time at Coachella. "I'm very happy to be here, it's great"he adds during a concert by The Hu, a rock band from Mongolia.
Although cases of Covid-19 are on the rise in the United States, hundreds of thousands of people are expected in Indio, in the California desert, for this great event that takes place over two three-day weekends. On display this year, Billie Eilish, Harry Styles and The Weeknd, Swedish House Mafia but also Belgians Stromae.
The 2020 edition of the festival had been canceled due to the coronavirus pandemic, and two years of chaotic cancellations, changes of concert dates and programs followed. After a three-year hiatus, Coachella is seen as a test event for an industry still shaky after all the setbacks related to the pandemic.
The far specter of Covid
Organizers said they would not require proof of vaccinations, masks or social distancing. The festival takes place mostly outdoors and welcomes about 125,000 enthusiasts a day from around the country and abroad, many of whom camp out or fill nearby hotels.
Two Covid-19 screening sites are available on site. José Arballo, a spokesman for local health authorities, said testing capacities in the area would also be increased. While cases have fallen sharply since January across the country, their numbers are beginning to rise, according to officials. Some universities have reinstated mask requirements, but restrictions remain minimal in most of the United States, including California.
Other big names at Coachella this year include Megan Thee Stallion, Phoebe Bridgers and Doja Cat. The Weeknd and Swedish House Mafia were added to the list at the last minute after Kanye West dropped out. Travis Scott also quit performing after a deadly stampede during his concert in Houston last year. Other concerts on the program include those by the French L'Impératrice, the Palestinian DJ Sama'Abdulhadi and the South Africans Black Coffee.