Ukraine has feared for several days a new massive Russian offensive in the Donbass region. Thus, three scenarios could be considered.
An imminent attack? Since Russia's recent withdrawal to eastern Ukraine, kyiv has been fearing the launch ofa major offensive in the Donbass region. With the aim of seizing the entirety of this mining basin whose two main cities, Donetsk and Lugansk, self-proclaimed their independence in April 2014, driven by their pro-Russian sentiment after the annexation of Crimea.
After the failure of the blitzkrieg, what could this second part of the Russian invasion of Ukraine consist of? How will Vladimir Putin's army proceed to take control of this strategic region? BFMTV.com takes stock of the three possible scenarios with our defense consultant, General Jérôme Pellistrandi.
1st scenario: a great offensive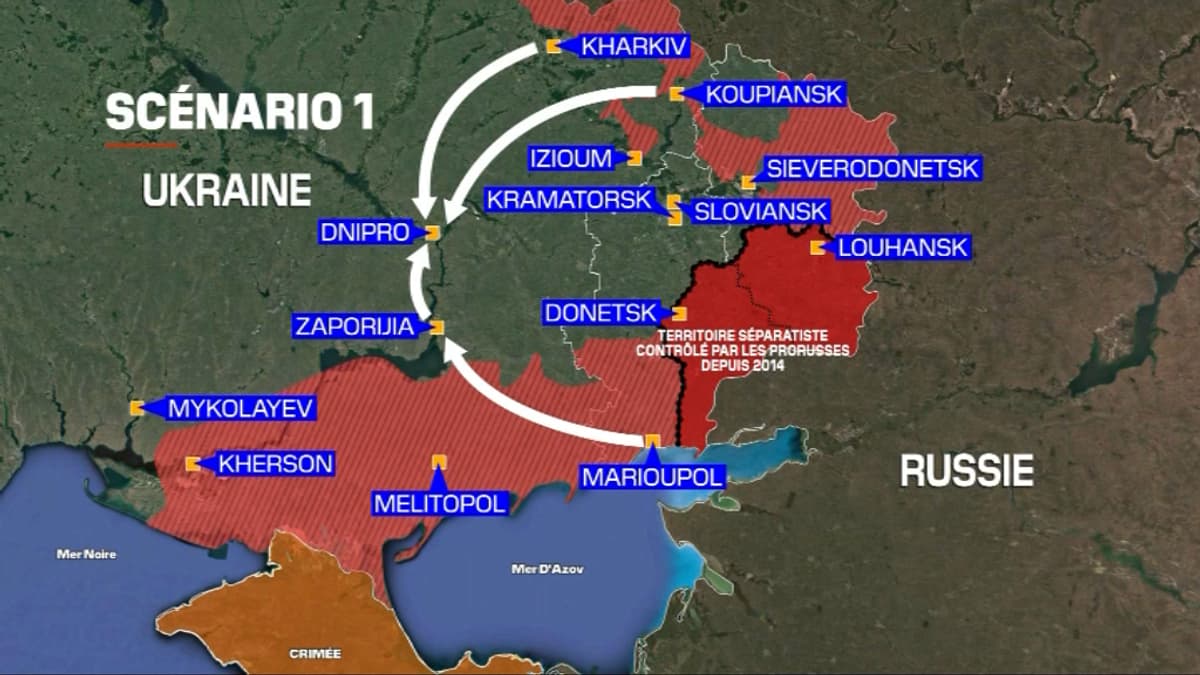 The first scenario considered for Donbass attack it would be that of a "great" offensive, explains General Jérôme Pellistrandi. Russian forces would rush from three hubs, namely the cities of Kharkiv, Kupyansk, and Mariupol, to take control of Dnipro, on the banks of the Dnieper River.
"This would provide the best anti-tank barrier against a Ukrainian counterattack. However, it is a very ambitious plan, the distances are extremely great and it would require regenerated Russian forces, which they currently do not have", specifies our defense. consultant.
2nd scenario: two attacks from Izium and Donetsk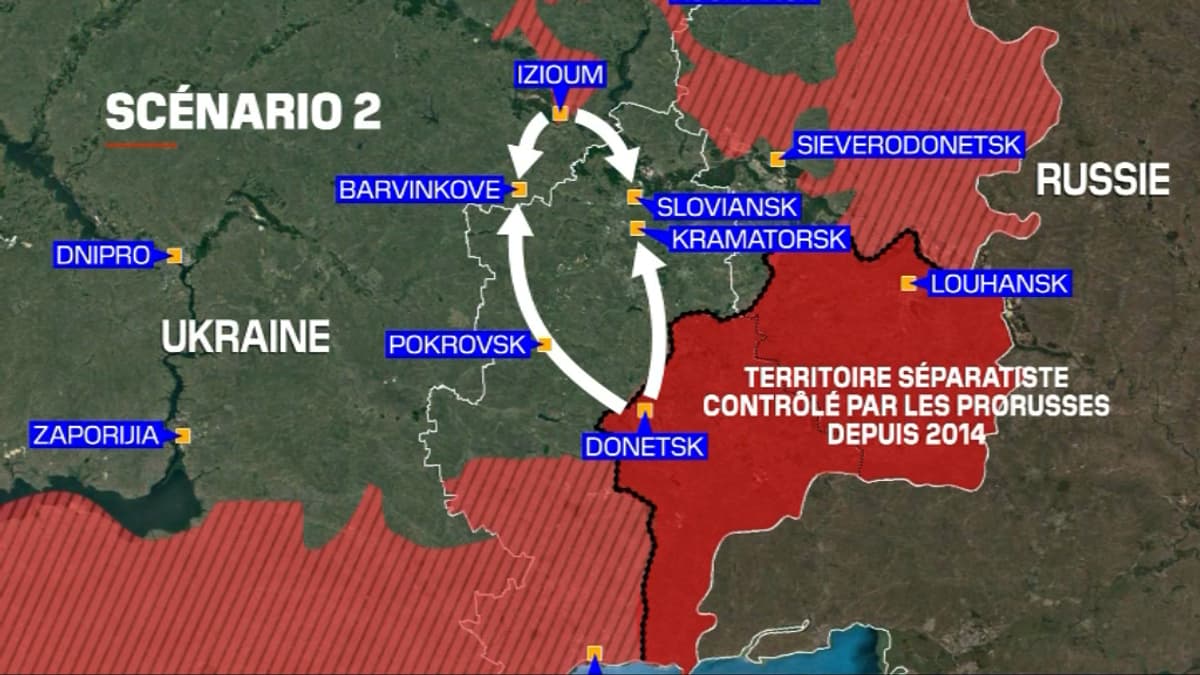 In the second scenario, two attacks could start from Izium, in the North, and from Donetsk, in the South, with the idea of ​​cornering the Ukrainian forces at the level of the towns of Barvinkove, Sloviansk and Kramatorsk.
"This hypothesis is credible but it has a drawback, it exposes the western flank of the Russian forces to Ukrainian counterattacks. Therefore, it is necessary to coordinate very well these two attacks in the north and in the south. observed, because there is a significant reinforcement of the Russian forces around the city of Izioum", underlines General Jérôme Pellistrandi.
3rd scenario: conquer what remains of the Donbass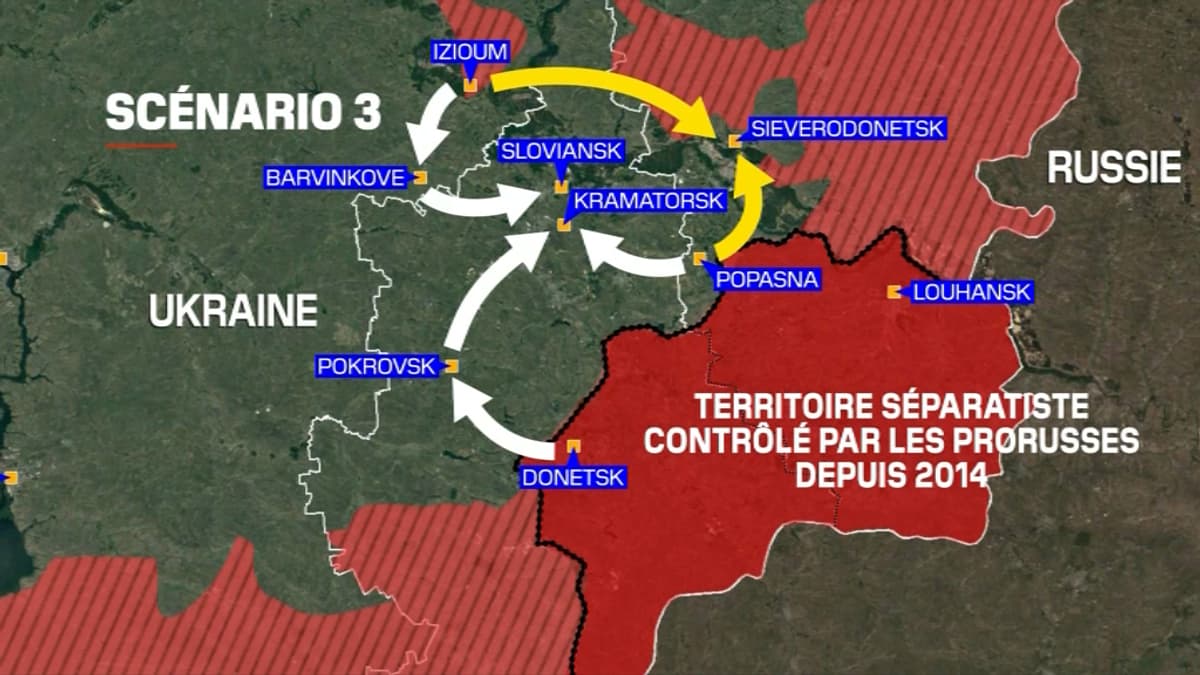 According to the third scenario, the Russian forces would simply try to conquer what is left of the Donbass, in particular around the cities of Kramatorsk and Sievierodonetsk.
"This is the least ambitious idea but the most realistic, given the state of Russian forces at the moment. In all three scenarios there is an unknown factor, namely also the state of the Ukrainian forces and their ability to react", concluded our defense consultant. .
Clement Boutin BFMTV journalist