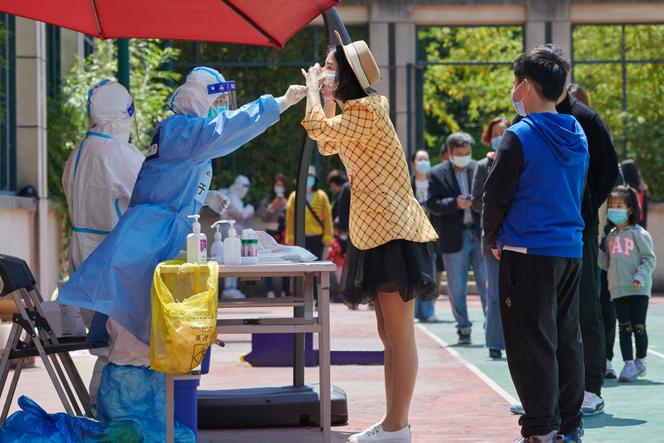 China reported three deaths from Covid-19 in Shanghai on Monday, April 18, the first officially announced since the start of the confinement at the end of March in the country's economic capital. The Asian giant, which follows a Covid zero strategy, has so far officially recorded only 4,641 deaths linked to the coronavirus, initially discovered on its soil in late 2019.
In a statement posted on social media, the Shanghai mayor's office said the three deceased were elderly and had underlying illnesses. The two previous deaths announced in China had been announced in mid-March in the province of Jilin (northeast), which borders North Korea.
Shanghai is the scene of the worst viral contagion in China since the start of the epidemic, with tens of thousands of new cases announced daily. Its 25 million inhabitants have been in strict confinement since the end of March, many of them complaining, among other things, of supply problems.
economic rebound
Despite the confinement in Shanghai and in several regions that strongly penalizes activity, Beijing announced on Monday a rebound in its economic growth in the first quarter (+4.8% in a year), The Chinese economy is facing "to significant challenges"However, a senior official acknowledged at a press conference.
Although subject to caution, China's official gross domestic product (GDP) figure is still closely watched given the country's weight in the global economy. The announced increase was widely expected. In the fourth quarter of 2021, the GDP of the Middle Kingdom had increased by 4% in a year.
China, which for two years had largely controlled the Covid-19 epidemic on its soil, is facing its worst outbreak of cases. As a result, tens of millions of people were confined in March, particularly in the technological metropolis of Shenzhen (south), or remain confined in the northeast of the country, the cradle of the automobile industry, as well as in Shanghai.
Paralyzed businesses
Contrary to many countries that opt ​​for "cohabitation" with the virus and lift restrictions, China continues with a zero Covid policy. These measures are severely damaging transportation and supply chains and have brought many businesses to a standstill.
These difficulties are added to those that had already weighed on the Chinese economy in recent months: sluggish consumption, regulatory tightening in various sectors such as real estate and technology, and uncertainties linked to the war in Ukraine.
In March, retail sales, the main indicator of household spending, fell by 3.5% annually, after an unexpected acceleration in the January-February period (+6.7% annually), the only data published at the time.