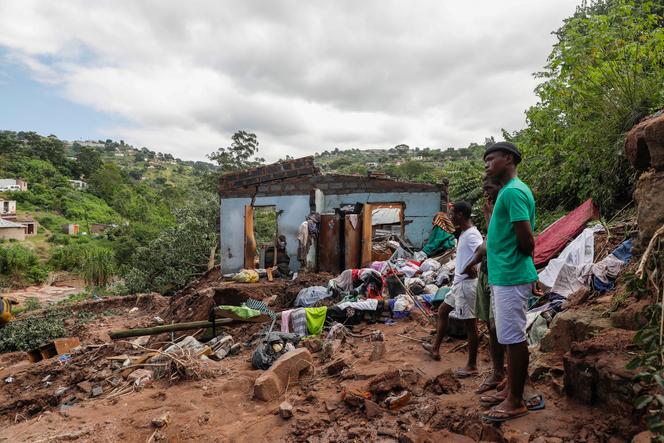 Spiwe Mtseko navigates sodden sandbanks like an archaeologist. "There were houses here", he says, stepping over the dank ruins of Mega Village, an informal settlement on the outskirts of Durban, in South Africa. Located near a river, the shantytown was hit hard by bad weather that left more than 440 dead and 40,000 displaced in the last week in this region of Kwazulu-Natal, open to the Indian Ocean.
The river that flooded the small town receded a hundred meters below. Apparently 300 houses have been destroyed according to Spiwe Mtseko, an unemployed father who represents the district's residents. These live in huts, as we call these small shacks made with sheets of corrugated iron. The rudimentary appearance of the exterior sometimes hides beautiful and comfortable interiors. Glossy parquet floor, microwave, refrigerator equipped with icemaker, picture hanging on the wall and flat screen: the hut Milton Sibiya was the cocoon of a lifetime of work.
"Do you see how much I lost? », he asks, scrolling through the photos on his phone. "If I don't talk nonsense, we're close to 100,000 rand" (6,000 euros), he regrets. With his feet in flip-flops and a shovel in hand, Milton cleans the mud from the false floor. He is protected from the rain by a sheet of metal that is still standing. His house was destroyed. This afternoon he will be able to sleep in the common room that has been set up for those affected upriver in the district in one of the hostelsthese collective homes, with shared kitchen and sanitary facilities, where the poorest populations traditionally live.
single meal
In the Durban area, authorities have opened 17 hostels like Tehuis Hostel. The latter, built in the early 1980s, has 4,000 beds and is already overcrowded. Therefore, it is not in rooms but in a dormitory without beds that the displaced people of Mega Village have found refuge. "We can't ask them to leave.explains Sonwabile Spamla, the representative of the tenants of theLodging house. We are waiting for the city to come and help them. But it is dangerous for them to go back there. »
A hundred women and children crowd into a low-ceilinged room. The men live separately for security reasons. The light hardly penetrates and the air circulates little. Only the luckiest have a mattress, the rest sleep on the polished concrete floor. A woman is coughing in a corner of the room. Fundisiwe Mbili, 28, has sinus problems. "It's cold, when I wake up my nose is stuffy. But I have no choice, I have to sleep here. » she confesses. In her flight she could only snatch a blanket from the river that she has to share with her son, her mother and her two little sisters.
You have 50.5% of this article left to read. The following is for subscribers only.